By Steve Heiting

Gulping a breath of crisp air, I stood and watched as the tail and dorsal fin of the big musky paddled into the tea-stained water. The setting sun shot streaks of purples and oranges and yellows beneath the edge of the low cloud layer, and I realized the snow had ceased and the winds were calming ... it was easy to overlook such things because during the previous 15 minutes we had caught and released two giant muskies.

Schools of whitefish had crowded the breakline earlier in the day and we boated one big musky and raised several others. Thankfully the action had been good because the weather wasn't — if it wasn't snowing it was misting, and the wind gusted from the east up to 30 mph. As the clouds broke and the sun eased toward the horizon, the whitefish moved shallow to spawn and the muskies fed. Two tried to eat our lures in the day's waning moments and ended up being photographed and released.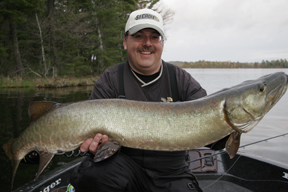 While we had no idea three big muskies would be caught that day, we were on the water in the hope of such good things. Fall musky fishing can be extremely predictable if you use water temperatures as a guide for where and how you should be fishing. While they have no way of knowing it, muskies' instincts tell them they need to feed in anticipation of winter and, for the females of the species, the development of their eggs for the following spring's spawn.
I define the fall period as when the first major cold front of fall sends water temperatures crashing into the middle 60s. This may occur in late August until sometime in the middle of September. Going from warmest to coldest water, following are the water temperatures I look for as well as where and how I fish for muskies when those numbers show up on my fishfinder's temperature gauge:
• 65-58 degrees — This is my favorite period of the year. Turnover is looming and, it seems, all the muskies in the lake crash the shallows for a major binge. It doesn't matter if it's a weedy shoreline or a rocky point, the muskies will be shallow.
I cast big bucktails and topwaters into water that's six feet deep or less, and if that doesn't bring action I switch to a large, unweighted, soft plastic bait. Using bucktails and topwaters in such conditions on September 10, 1998, my fishing partner and I boated 16 muskies, and on September 23-24, 2002, my partner and I boated 20 muskies, so you can understand why I like this time period.
• 58-52 degrees — Following some of the fastest action of the year is what can be the most challenging fishing of the season. Waters may turn over several times each year, but the one that really seems to put the fishing down occurs during this water temperature range.
You'll have to resort to every trick you know to catch fish now. Muskies will typically be holding in the 6- to 15-foot range, and erratic retrieves from jerkbaits, minnowbaits and soft plastics usually are necessary. While a quickset-rigged sucker is an option, the muskies often are in or near weedy cover which will foul your livebait rig. If you have multiple lakes available in your area, the smaller ones will turn over first so concentrate on larger waters. When the big waters start to turn, return to the smaller ones until the big ones are finished. If you're fishing a large system like the Chippewa Flowage you can usually find some portion that is unaffected by turnover.
A great option at this time is Green Bay and the Lower Fox River. Shad return to the mouth of the river when the water temperature drops to the mid 50s and muskies will be right with them and can be caught with both casting and trolling presentations. Keep your crankbaits and minnowbaits on the smallish size, say 5 to 7 inches long, to best match the size of the shad.
• 52-45 degrees — Lakes will have settled out from turnover and what many consider "true" fall musky fishing is at its best. On dark water lakes I like to position my boat over hard bottom just outside the weed edge (which is often at 6 or 8 feet of water), so my boat will be over 10 to 15 feet of water. On clear water systems I want my boat over 18 to 25 feet of water. Regardless of depth and water color, I like to cast jerkbaits, minnowbaits, crankbaits, jigs & reapers or soft plastics toward shallower water, while quickset-rigged suckers are fished beneath the boat from additional rods. The suckers will catch fish on their own, but you can increase your chances of success if you consciously use your artificial lures to draw following muskies toward the livebait — a methodical figure-8 near your sucker(s) will often surprise you.
Whitefish spawn in the fall when the water temperature is around 50 degrees. If you see pods of baitfish on your electronics just over the breakline from large flats during this time, these are likely comprised of whitefish. Use large, silvery minnowbaits and soft plastics around the breakline, but don't hesitate to check the flats — sometimes the muskies will already be shallow, waiting in ambush.
This is also a time when you must be extremely aware of your lure speed. If you're not contacting muskies, it's quite likely that your retrieves are too fast. Slow down.
• 45-32 degrees — Muskies will be deeper in almost all lakes. The hard bottom/soft bottom edge will become a travel route for muskies — dial up the sensitivity on your electronics until this becomes evident, and then try to keep your boat and your livebait at that depth. Lure speed will be critical, and feeding windows will become very short so it's wise to fish only a handful of good spots each day, but spend lots of time on each.
Ciscoes spawn in fall when the water temperature is about 42-39 degrees, and many believe the full moon in November triggers the spawn. Ciscoes spawn on sand/gravel flats at night and will spend the day suspended over deep water just outside these flats. Troll (if legal) or cast crankbaits or soft plastics around the ciscoes because the muskies will be there, too.
Fall musky fishing comes and goes too quickly, but the predictability of the period makes up for that. Base your fishing on water temperatures this fall and give your net a workout!