The lake was like glass as my wife Kris and I headed across the water to a sand flat with newly emerging bulrushes on it.This particular shallow flat is a major spawning area for crappies, sunfish and bluegills each spring. I killed my outboard and dropped the trolling motor to ease us stealthily into where we wanted to fish. Kris was using a St. Croix Legend Elite series rod rigged with a Shimano reel and six pound Vicious Ultimate monofilament line. I set her up with a small slip bobber and a 1/32 ounce jig head tipped with a Berkley Power Bait one inch Micro Power Nymph.

She flipped her first cast to an emerging clump of bulrushes and her bobber immediately went down. She set the hook and her rod loaded up pretty good, and it was clear that she had a nice fish on. She fought the bull bluegill to the boat and eased it in, and after measurements I congratulated her on her biggest bluegill ever, a nice ten inch fish! I followed this catch up with a thirteen and three quarter inch crappie shortly thereafter. We proceeded to hammer a mixed bag of quality crappies, perch, rock bass, bluegills and sunfish all day with this same set up and we never had to worry about running out of live bait or keeping it fresh.

Puddle Jumper

While using artificial lures for panfish is certainly nothing new, the good news for anglers today is that there is such a wide variety of colors and styles to use. Every good regional bait for crappies here in North Central Minnesota is called the Puddle Jumper. This lure glides through the water nicely when rigged on a jig head and it can also be fished effectively on a small jig spinner.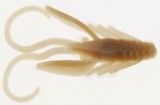 Power Nymph

Berkley makes a wide variety of micro sized soft plastic lures and my personal favorite is the Power Nymph I mentioned above. The Power Nymphs are deadly when rigged with small 1/64 or 1/32 ounce jigs and have a nice gliding or swimming action in the water. They come in a wide variety of good colors too.

Berkley also makes lures called Power Wigglers, which look just like a real wax worm or wiggler and come in a nice selection of colors. These can be used with jig heads or even on plain hooks under a float. I like to rig these Power Wigglers under a slip bobber with an ice jig such as a Rat Finkee by Custom Jig & Spin. This type of ice jig works well because of where the line tie is on the lure. This position of the line tie on the Rat Finkee keeps your hook horizontal and this enables fish like bluegills or crappies to suck in your offering better than if the lure hung vertically. Your hooking percentage compared to a tear drop style ice jig that hangs vertical is far superior.

Another key advantage of artificial lures for panfish is that you can catch a good number of fish on one offering rather than having to re-bait your jig or hook each time with a fresh minnow or wax worm. Not only is this more cost effective compared to live bait, but it also enables you to get your lure back to the school of crappies or bluegills much faster. As far as fish locations go, these types of lures can be used on the shallow spawning flats in the spring, as well as around brush piles or fallen trees. You can also use these in deeper water in southern reservoirs near standing timber under a slip bobber. Leave your minnow bucket at home next time, and go out and rig some soft plastic artificial lures for panfish, and you will be impressed with the results!
---

Tom Dietz is the Store Manager of the Baxter Minnesota Gander Mountain store, and resides in Baxter, Brainerd, Area Minnesota. He guides for muskies professionally in Minnesota and frequently fishes muskies in the PMTT Tournament Circuit each year. He gives seminars and writes articles on a regular basis. Tom is originally from Wisconsin, a multi species angler since 1988. He has his own web site at www.tomdietz.com