A warm southerly wind blew across the thick February ice as I cut a number of holes in a boat channel leading from the main lake. This channel averaged six feet deep, and had a fair amount of fallen timber and other cover present. Saugeyes, crappie, bluegill and perch were all present in this slough and I decided this evening to target saugeyes.I put out several tip-ups and jigged my Vib-E jigging blade bait in conjunction with my Vexilar flasher. As I was jigging, I heard the tell tale sound of a tip-up flag tripping and I looked over my shoulder to see my flag up and the spindle spinning slowly, indicating a nice fish was peeling off line. I eased up to the hole, and gave the fish some slack before pulling out the tip-up, and set the hook with a snap of my wrist. The saugeye fought hard, and made a few short runs before I eased the nice fish out of the hole. After re-baiting the tip-up with a golden shiner, I got back to jigging and my Vexilar unit. I was marking fish regularly and missed several strikes, so I knew my window of opportunity had arrived, especially with a chunky seventeen inch saugeye lying on the ice. Suddenly, a large red mark appeared on my Vexilar unit, and I kept raising my jig slowly trying to trigger the saugeye into biting. All of a sudden, there was a healthy "thump" on the line and I set the hook hard. The dead weight of the saugeye was evident as there was no give to the bend in the rod, and after a brief tussle, I had another great eating sized saugeye on the ice! I added a bonus jumbo thirteen inch crappie and a few big perch to my catch that night and had a great fish fry for the family the next day. Ice fishing is an enjoyable sport and a great way to spend the cold weather months in the outdoors. It is also a great social event, and I usually try to go out with family or a large group of friends to share in the fun. There is some basic equipment one needs to get started in ice fishing, and this article is intended to help you make the right choices to get going. I will go over all of the gear and discuss in detail the applications to help you make a sound investment.
The first piece of equipment one needs quite obviously is an ice auger. There are two types available, either a hand auger or a power auger. The advantage of the hand auger is they are a lot less expensive and lighter than the power auger. The power auger, on the other hand, cuts holes a lot easier, especially if there is a lot of ice present. After cutting holes through the ice, the next piece of gear you need is an ice scooper. When you punch a hole through the ice, the ice shards always collect in the hole, and you need to clean the ice out of your way so you can fish properly. There are plastic ones that are less expensive, and then there are metal ones. I prefer the metal scoopers because they are much more durable in the long run.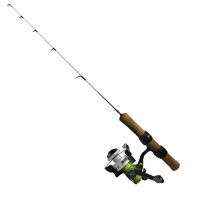 To catch fish through the ice, one needs to match your ice rods to the species you are targeting. If you are after perch, bluegill, or crappie, you can purchase an inexpensive ice rod without a reel, as this set up will be more than adequate. If you are after walleyes or northern pike, then you need to invest in a medium action ice rod with a matching spinning reel. These combos are available at most retailers and are fairly inexpensive. When I am fishing for pan fish, I still use a light action rod with a spinning reel filled with four to six pound test, because I prefer to reel in the fish, rather than hand line them in as you have to do with the cheaper ice rods with no reels attached. You can either use small ice jigs to catch pan fish, or a crappie minnow on a small number 12 treble hook and a slip bobber. I usually use ice jigs such as the famous Rat Finkee by Custom Jig & Spins, because this jig has the line tie in the best position for the jig to hang horizontal to catch more fish. I tip my ice jigs with a wax worm or spike for best results. A spring bobber for pan fish can be helpful too, because these accessories will show the lightest of bites and they are very inexpensive to add to your jig rod. For walleyes, I like the Buckshot Rattle Spoons or Jigging Rapalas for best results. I also use eight to ten pound test line and no leader.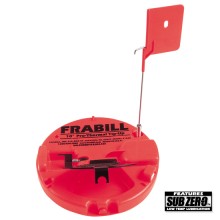 Another great way to catch larger fish through the ice is using tip-ups. Tip-ups are a neat contraption that allows you to set out a spread of lines to cover a large area effectively. When you get a bite, the flag jumps up and it is visible from a long distance. My favorite tip-up to use is the Frabill Pro-Thermal tip-up, because it has foam built into the tip-up to keep your holes from freezing over in between strikes. They also stack neatly in a five gallon pail. They have a spool on them that you fill with black twenty to thirty pound test tip-up line and then connect a three foot leader of eight to ten pound test of monofilament line via a crane swivel. The black tip-up line shows up best on the ice when you have to reel back in your lines. I recommend using either medium golden shiners or medium sized sucker minnows on a number six sized treble hook. Place a split shot above your minnow about eight inches to keep your live bait near the bottom. For walleyes keep your minnow about eighteen inches off the lake floor, and with northern pike, you can set your baits fairly high off the bottom, because a pike will regularly move upwards to take your offering.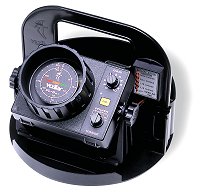 Another great asset to the ice fisherman is the Vexilar Ice Flasher. While they are a big investment, this remarkable unit allows you to see everything in real time, in other words, you can see your tiny ice jig move up and down as you jig your line, and when a fish appears, you will see the red line either above or below your own jig. Simply connect the dots, so to speak, by raising or lowering your rod, and often the fish will bite immediately. These units are absolutely critical if you are fishing deeper water, as I have caught walleyes in Bay De Noc, Michigan that were suspended a full six to eight feet off the bottom. Had I not had a Vexilar unit, I would have never realized that the walleyes were a full three to four feet above my lure! I simply reeled my bait above them and coaxed them into striking.

An ice shelter is another nice investment to have, especially if you have kids along. A quality ice shelter will keep you out of the wind and warm, and it also doubles as a great way to haul all of your gear out on the ice. Another neat advantage of an ice shelter is that it will often allow you to see really well below the ice because it shields the glare from the sun and in the darkness of the ice shack, it can be amazing how well you can see below the ice. I use the Frabill Trekker Ice Shack because I really like the design features, overall room and comfort, and the ease of use.

A few other must haves for the beginning ice angler are hand held safety spikes, just in case you would ever fall through the ice. These spikes can save your life by allowing you to pull yourself up through the ice to safety. There are also ice spikes you can place on your boots to prevent you from A good hook file is a must to sharpen your ice jigs and treble hooks, and a good insulated minnow bucket and a minnow net are very handy in the colder weather. Frabill makes a great minnow bucket called the Sit & Fish Bucket that also has a padded seat for you to fish comfortably, and an insulated minnow bucket to keep your minnows from freezing in the cold weather. Good cold weather clothing is also a must, as are water proof, insulated rubber boots to keep your feet dry and warm. Lastly, a small double sided tackle box to store your ice jigs, hooks, and sinkers in is very handy on the ice.

Ice fishing is very enjoyable way to pass the winter months and a great social activity to enjoy with your family or friends. This article should help you select the basic gear to get started, and it will help you be successful on the ice. Be safe, have fun, and enjoy the great outdoors even in the winter!


Tom Dietz is the President of Chapter 56 Southwest Ohio Chapter of Muskies, Inc. and the Store Manager of the Dayton, Ohio Gander Mountain store, and resides in Huber Heights, Ohio.He guides for muskies professionally in Ohio and competes in the PMTT Tournament Circuit each year.Tom is originally from Wisconsin, and has fished for muskies avidly since 1988.He has his own web site at www.tomdietz.com.