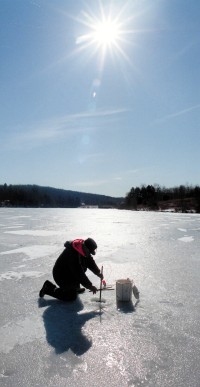 First ice is an exciting time of year for me here in the north woods. It is a new start to a new realm of fishing and simple put, it's some of the most fun fishing you will experience all year.
I start my ice fishing season off every year about the time Wisconsin's gun deer season is about to end (last week of November). Digging out all stored tip-ups, jig poles, tackle boxes, ice skimmer, depth finder, etc... And checking them over and making any necessary adjustments. Usually I like to use the same tip-up line from the previous year if the line appears to be in decent shape (no fraying of discoloration) and tie on new leaders to existing line, change all jig pole line to fresh new line too. One Major component to having a correctly rigged tip-up and/or jig pole is the use of fluorocarbon line. I can't stress enough how this one minor detail can make the difference between catching fish and going home empty handed. This is the same technique I use in the open water months and it has proven it's self over and over again. Fluorocarbon line has the same light refraction as water so even the most picky of fish can not see the line. The two fluorocarbon lines that I would recommend are Berkley Vanish and Sea Guar in the 6 lb. test.
Organization Is The Key
Keeping gear organized and to a minimum is key when stepping on the ice for the first trip of the year. Keeping equipment to a minimum avoids any unnecessary gear blowing across the smooth ice to the other side of the lake never to be seen again. Everything that an angler needs to get started on the ice can fit in a five gallon pail. I like to use Frabill's Sit and Fish. This pail will store three tip-ups and all you gear for the day and even room to bring fish home in. All the gear is stored and sealed in the Sit and Fish by it's cover which has a padded seat for comfort. Now it's time to go fishing but, for what species???
Here are some quick tips to narrow your search when targeting northern pike, walleye, and pan fish.
Walleyes under early ice can be easiest to catch more so than the rest of the ice season. I like to narrow my search by checking out still green vegetation, such as cabbage and coon tail. Sandbars are also a favorite for targeting walleye in the evening and after dark. I like to fish these two types of structures in the 4 to 14 foot range trough the first month of the season and progressively move deeper as the season moves on and ice thickens. Lake shiners, golden shiners and small suckers all work well when hooked just under the dorsal fin by a #10 Eagle Claw hook and a 6 lb. fluorocarbon leader.
Northern Pike are probably the easiest of the three species to catch. Northern historically prefer to inhabit large shallow weed flats with heavy weed cover which harbors a variety of pan fish and bait fish. Fishing these pike doesn't require the finesse that it takes to target walleye and pan fish. A Frabill Arctic Fire and/or the Frabill Classic tip-ups spooled with 20 lb. test line and a wire leader is all I use to put these fish on the ice. Experimenting with different colored hooks can some days make a difference but day-in and day-out any hook in #4 to #10 size will work just fine. Golden shiners and river shiners hooked just under the dorsal fin work well for this type of application, hanging a dead smelt hooked on a quick strike rig is a good technique to target the larger pike in the area that you may be fishing.
Panfish can be found anywhere on the lake that you can still find green weeds. The same structure that is home to northern pike is also home to a variety of pan fish. Bluegills, sunfish, and crappie will all be caught in these areas while using light tackle and small grubs. Extremely light action jig poles such as the pan fish popper by Frabill rigged with no more than 2-3 lb. test line and a variety of small pan fish jigs are the norm for catching these little guys. Early ice can be deadly when targeting pan fish but everyone knows that the best pan fishing is just before ice out.
Note: The best possible scouting for the ice season can be done during the summer and fall months while using sonar to pinpoint a hidden weed bed, unknown rock bars, deep sandbar, and other fish holding structure. Putting a wave point on that spot with a hand held GPS that can carried with on the ice or in the boat will cut your time to a fraction and give you an advantage against other fishermen. The best advice I can give is always put the odds in your favor when possible. This will make you catch more fish!