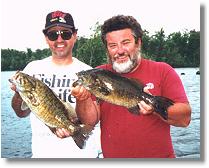 Crankbaits will catch fish most of the season, but they can become very effective in fall. Crankbaits come in all shapes and sizes and they will catch all types of fish. Smallmouth bass prefer thin 2 to 4 inch crankbaits with an erratic action like a Shad Rap or a Rebel Crawfish. Largemouth bass prefer the rounder crankbaits, in a slightly larger size, baits like Bombers and Wiggle Warts. Walleye tend to hit the long lean baits like Shad Raps and Rebel Wally divers. Pike and Musky will hit any of the above, but should rely on both shallow and deep divers. A few of my more productive musky and pike baits include Depth Raiders, Slowie Slayers and Cisco Kids. The fact that any fish will hit a crankbait only increases their productivity. Keep in mind, that there is no set rule, for any species could hit any crankbait at anytime.
Another big advantage is that crankbaits can effectively be worked around a variety of different types of cover and structure including wood, weeds and rocks. The type of crankbait you choose will depend on the type of structure and depth you are fishing. So know the structure before you start fishing. You must get maximum penetration with the crankbait allowing it to stay in the strike zone for the longest period of time.
On many lakes, fish activity will center on the weed lines. In September, much of my time is spent pursuing these weed line fish. Fish are on the move and looking for baitfish. In early fall, baitfish move out of the shallows and hold along the weed lines. However, fish can be scattered and tough to locate. No bait will search out active predator fish quicker than a crankbait. Start with a crankbait that will run a few feet below the surface. If bass or walleye are active, they will be riding high on the weed line, or over the top of the weeds. Shad Raps and Mann's 5+ are ideal crankbaits for working over weeds. Yes, you will pick up weeds, but you will also catch fish. If you aren't occasionally picking up weeds, you aren't on fish.
After you have caught the active fish, start working deeper water. Often neutral fish will hold at the base of the weeds. However, by digging the crankbait down to the base, you can trigger these fish. It will take a bit of effort to work the deeper weeds, but it could produce a lunker.

Later in September and into October, weeds start to die off in most northern Wisconsin lakes and flowages. At this time, switch over to rocks. Riprap shorelines and natural rock are productive. First check out the riprap, since these areas will hold more baitfish. Next search out rock piles and rock points that have access to deep water. You should occasionally bump rocks, if you expect to catch fish. Smallmouth bass will on occasion suspend from rock piles in fall. Lipless crankbaits like Rat-L-Traps are effective in this situation.
By using a combination of the right depth crankbait and the proper line, you will be able to effectively fish most situations. Only a jig will allow a fisherman to work the required depth more effectively. To get maximum depth out of your deep diving crankbait, the proper line diameter is important. Don't rely on just what the package says when you purchase a crankbait. A lighter line will cause the crankbait to run deeper. Ten-pound test is a good test line to start with. Try experimenting with different line diameter until the proper depth is obtained. It is possible to have a crankbait vary as much as four feet just by switching to a different test line. Moving a crankbait up or down only six inches can be the difference between catching a fish.
Long rods will also help increase your numbers of fish because it will let you make a longer cast. A longer cast will allow the crankbait to run at the preferred depth for the longest possible time. I use either a seven or seven foot six-inch rod. The longer the cast, the longer the crankbait will be in the strike zone.
Fiberglass rods are preferred to graphite rods. When using a fiberglass rod, the hook will almost set itself. Often too sensitive a graphite rod will cause you to set the hook to soon. Lamiglas has an excellent series of crankbait rods, which includes; the SPC 703 is a medium light action rod for 8 to 17 pound test lines. The SPC 704 is a medium action rod for 10 to 20 pound test, while the SPC 705 is a heavy action rod. They are all 7-foot rods that will allow for maximum casting distances.
Color is also important when choosing a crankbait. Shiner and crayfish imitations can be hot in clear or moderately stained water. On bright days, switch over to chartreuse or fire tiger patterns. On occasion minnow pattern baits can also be effective in dark water. Again, there is nothing definite so don't hesitate to break the rules and use different color combination's if the action is slow. There have been times when the wrong color pattern for the wrong conditions has put a few big fish in the boat.
So this fall, spend a day doing some crank baiting. Don't make the mistake of just taking any crankbait out of your box. Be selective and try to match both the water you are fishing and the cover. Crankbait fishing will require patience, but believe me it can be very productive. A good crankbait fisherman will seldom have trouble putting fish in the boat, regardless of the weather conditions and your target species.
Editor's Note: Mike Mladenik is a multi specie professional fishing guide and outdoor writer from the Crivitz area of northern Wisconsin. To contact Mike or to find out more about his guide service visit his web site at: http://www.mikemladenik.com.