Natural undeveloped beauty combined with an excellent and varied fishery consisting of walleye, northern, smallmouth bass, musky, and some of the biggest perch, bluegill, and crappie you will ever catch. Sounds almost too good to be true, but that's exactly what you can expect when you fish one of our area's flowages.

Bodies of water such as the Willow Flowage, Rainbow Flowage, and Flambeau Flowage are some of the most beautiful and productive waters the Northwoods of Wisconsin has to offer.

We've got hundreds of lakes to choose from in our neck of the woods and during the past 16 years as a full time guide I've had the extreme fortune and pleasure to fish many of them. With each passing year I find myself spending more and more time on the flowages. I've already mentioned a few of the reasons why, but another reason is the peace and quiet that you will experience while spending time on a flowage. In this day and age of jet skis, personal water craft, and high powered speed boats some of our natural lakes can get quite busy at times, particularly during the warmer summer months. The flowages provide an escape from this. There are many stumps, rocks, and other shallow areas scattered throughout the flowages. These hazards, coupled with the fact that the water levels can vary tremendously, create a very dangerous environment for jet skiers or water skiers, so they tend to stay away. I must add that these same hazards should be of concern to us fishermen as well. Go slow and keep a watchful eye on your electronics until you become a little more familiar with the water. In other words use a little common sense and you'll have no problems.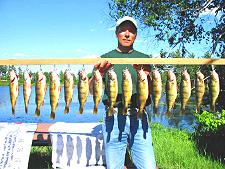 Ask me which fish species is my favorite and I won't have to think twice before I say walleye. In my opinion, the flowages are some of the top walleye producing waters we have. However, even though there are good numbers of walleyes in the flowages, they aren't always active, as can be the case with any good lake. But walleyes don't have to be the only game in town. As I've mentioned earlier, the flowages are home to some of the nicest panfish you will find anywhere, and are certainly worth pursuing. Sometimes you have to adapt and take what the flowages will give you. For example, last spring's walleye fishing got off to a slow start, mostly due to an unusually cold month of May which included a number of snow storms that we fished through. Because of this the walleye fishing was inconsistent. If the conditions weren't just right the walleyes were tough to catch. On the days when the walleyes were hard to come by we switched our target to jumbo perch. Last spring was one of the best I've had for perch. We boated many in the 10" to 13" inch range. Those are nice quality size perch and were a very welcome alternative to walleye.

On another occasion I was out scouting for some new spots. I was targeting walleye as usual and working an area of submerged wood with my favorite flowage bait, a jig and half a crawler. I started getting these strange little pecky-peck type hits. I could tell by the way they were biting that they weren't walleyes but I kept missing them. I finally did manage to hook one. It was a 9" bluegill! I immediately switched to a slip bobber rig with a small hook and piece of crawler. That was the ticket. In the next hour I caught fifteen bluegills from 9" to 10" and two nice crappies. They made for a really nice fish fry that evening.

One more advantage to flowages is their dark water characteristic. It can sometimes be very difficult to catch walleyes on bright, calm, sunny days, particularly on clear water lakes. Whenever I know I'm going to be faced with these conditions I will head for a flowage. Because flowages typically have very dark water, light penetration is restricted and therefore the bright sunshine and calm winds aren't quite as much of a turn off as on clear water lakes. In fact I've often seen flowage walleyes become more active under these conditions. Some of my best flowage catches have come in mid summer during an extended period of hot sunny weather.

So if you want to spend an enjoyable day on the water with plenty of beautiful scenery and the potential to catch a mixed bag of fish, give one of our flowages a try. They're fun to explore, and even if the fish don't bite you'll still have a pleasurable time.

Rick Writz
http://www.rickwritzminocquafishingguide.com
Phone: 715-277-4445
E-mail: info@rickwritzminocquafishingguide.com